The Star Paper: Optixanthin 500 care packs for hospital's frontliners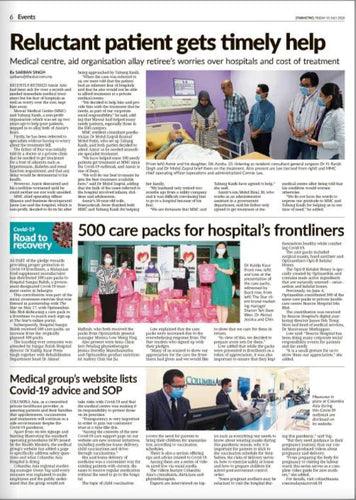 AS PART of the pledge towards providing proper protection to Covid-19 frontliners, a Malaysian food supplement manufacturer has distributed 500 care packs to Hospital Sungai Buloh, a government-designated Covid-19 treatment centre in Selangor.
This contribution was part of the social awareness exercise that was formed in partnership with The Star on May 17, with Optixanthin Sdn Bhd dedicating a care pack to a frontliner to match each sign-up at The Star's online portal.
Subsequently, Hospital Sungai Buloh received 500 care packs, an increase from the originally planned 300 packs.
The handing-over ceremony was attended by Sungai Buloh Hospital director Dr Kuldip Kaur Prem Singh together with Rehabilitation Department head Dr Akmal Hafizah, who both received the packs from Optixanthin general manager Monica Low Mong Ying.
Also present were Sena Clinic Seri Petaling physiotherapist Jessica Dorothy Marathamuthu and Optixanthin product nutritionist Audrey Chin Sze Jia.
Low explained that the care packs were increased due to the overwhelming response from The Star readers who signed up with their pledges. 
"Many of us wanted to show our appreciation for the care the frontliners had given and we would like to show that we care for them in return. 
"In view of this, we decided to prepare more sets for them." Low added that while the packs were presented to frontliners as a token of appreciation, it was also important to ensure that they kept themselves healthy while combating Covid-19. 
The care packs included surgical masks, hand sanitiser and Optixanthin's Opti-B Kelulut Honey.
The Opti-B Kelulut Honey is specially created by Optixanthin and contains main active ingredients that are naturally sourced – astaxanthin and kelulut honey.
Previously, on June 4, Optixanthin contributed 300 of the same care packs to private healthcare centre Beacon Hospital Sdn Bhd. 
The contribution was received by Beacon Hospital's digital marketing director James Peh Tiong Hooi and head of medical services, Dr Manivanan Muthappan.
Low said: "Beacon Hospital has been doing many corporate social responsibility events for patients and the needy. 
"It is a small gesture for us to show them our appreciation," she added.