The Star Paper: Help our frontliners stay healthy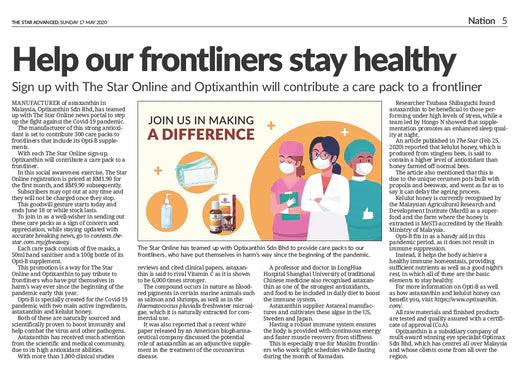 Help our frontliners stay healthy
Sign up with The Star Online and Optixanthin will contribute a care pack to a frontliner
The Star Online has teamed up with Optixanthin Sdn Bhd to provide care packs to our frontliners, who have put themselves in harm's way since the beginning of the pandemic.
MANUFACTURER of astaxanthin in Malaysia, Optixanthin Sdn Bhd, has teamed up with The Star Online news portal to step up the fight against the Covid-19 pandemic. The manufacturer of this strong antioxidant is set to contribute 300 care packs to frontliners that include its Opti-B supplements. With each The Star Online sign-up, Optixanthin will contribute a care pack to a frontliner. In this social awareness exercise, The Star Online registration is priced at RM1.90 for the first month, and RM9.90 subsequently. Subscribers may opt out at any time and they will not be charged once they stop. This goodwill gesture starts today and ends June 18 or while stock lasts. To join in as a well-wisher in sending out these care packs as a sign of concern and appreciation, while staying updated with accurate breaking news, go to contests.thestar. com.my/giveaway. Each care pack consists of five masks, a 50ml hand sanitiser and a 100g bottle of its Opti-B supplement. This promotion is a way for The Star Online and Optixanthin to pay tribute to frontliners who have put themselves in harm's way ever since the beginning of the pandemic early this year. Opti-B is specially created for the Covid-19 pandemic with two main active ingredients, astaxanthin and kelulut honey. Both of these are naturally sourced and scientifically proven to boost immunity and help combat the virus and other pathogens. Astaxanthin has received much attention from the scientific and medical community, due to its high antioxidant abilities. With more than 1,800 clinical studies reviews and cited clinical papers, astaxanthin is said to rival Vitamin C as it is shown to be 6,000 times stronger. The compound occurs in nature as bloodred pigments in certain marine animals such as salmon and shrimps, as well as in the Haematococcus pluvialis freshwater microalgae, which it is naturally extracted for commercial use. It was also reported that a recent white paper released by an American biopharmaceutical company discussed the potential role of astaxanthin as an adjunctive supplement in the treatment of the coronavirus disease.
A professor and doctor in LongHua Hospital Shanghai University of traditional Chinese medicine also recognised astaxanthin as one of the strongest antioxidants, and food to be included in daily diet to boost the immune system. Astaxanthin supplier Astareal manufactures and cultivates these algae in the US, Sweden and Japan. Having a robust immune system ensures the body is provided with continuous energy and faster muscle recovery from stiffness. This is especially true for Muslim frontliners who work tight schedules while fasting during the month of Ramadan.
Researcher Tsubasa Shibaguchi found astaxanthin to be beneficial to those performing under high levels of stress, while a team led by Hongo N showed that supplementation promotes an enhanced sleep quality at night. An article published in The Star (Feb 25, 2020) reported that kelulut honey, which is produced from stingless bees, is said to contain a higher level of antioxidant than honey farmed off normal bees. The article also mentioned that this is due to the unique cerumen pots built with propolis and beeswax, and went as far as to say it can delay the ageing process. Kelulut honey is currently recognised by the Malaysian Agricultural Research and Development Institute (Mardi) as a superfood and the farm where the honey is extracted is MeSTI-accredited by the Health Ministry of Malaysia. Opti-B fits in as a handy aid in this pandemic period, as it does not result in immune suppression. Instead, it helps the body achieve a healthy immune homeostasis, providing sufficient nutrients as well as a good night's rest, in which all of these are the basic elements to stay healthy. For more information on Opti-B as well as how astaxanthin and kelulut honey can benefit you, visit https://www.optixanthin. com/. All raw materials and finished products are tested and quality assured with a certificate of approval (CoA). Optixanthin is a subsidiary company of multi-award winning eye specialist Optimax Sdn Bhd, which has centres all over Malaysia and whose clients come from all over the region.