The Star Paper: Optimax Group Pledge RM200k for CONVID-19 Fight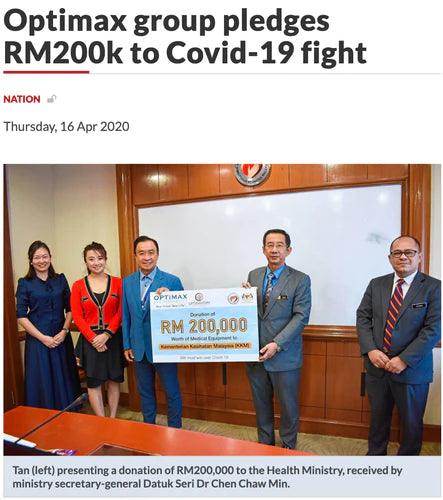 PUTRAJAYA: Optimax Sdn Bhd donated RM200,000 to the Health Ministry for hospitals to procure medical equipment and supplies to fight the Covid-19 pandemic.
The donation is for the purchase of ventilators, protective gear, test kits and other necessities.
"The worrying trend is playing out across the country, with daily increment of an average 150 cases for the past few weeks, " said Optimax group managing director Datuk Tan Boon Hock.
Public hospitals have been working overtime while healthcare frontliners are stretched to their limits, he said.
"I salute the public service frontliners who are working diligently in the fight against this outbreak. We support the healthcare sectors and will boost rehabilitation efforts in any possible manner that we could, " he added.
Tan urged the people to abide by the movement control order.
"We stay home while the frontliners stay at work for us. Let's all work together to fight this outbreak. We must win over Covid-19" he said.
Source: https://www.thestar.com.my/news/nation/2020/04/16/optimax-group-pledges-rm200k-for-covid-19-fight