The Star Paper: Eye-Opening Views On Astaxanthin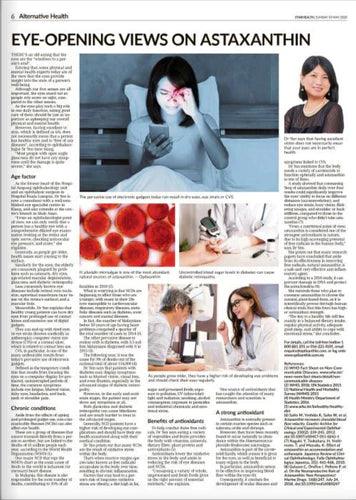 There's an old saying that the eyes are the "windows to a person's soul". Echoing that, some physical and mental health experts today are of the view that the eyes provide insight into the state of a person's well being.
Although our five senses are all important, the eyes stand out as people rely more on sight compared to other sensory cues.
As the eyes play such a big role in our daily cognitive functions, taking good care of them should be just as important as upkeeping our overall physical and mental health.
However, having excellent vision, which is defined as 6/6, does not necessarily mean that a person has healthy eyes and is "free of any diseases", according to ophthalmologist Dr Yen Siew Siang.
"Most people with open angle glaucoma do not have any symptoms until the damage is quite severe," she says.
Age Factor
As the former head of the Hospital Ampang ophthalmology unit since 2006 and a surgeon in Hospital Kuala Lumpur, Dr Yen is now a consultant with a well-established eye specialist centre in Klang and commutes to the centre in Shah Alam, Selangor.
Dr Yen says patients with diabetes may indeed display symptoms such as blurred vision, visual loss, and even floaters, especially in the advanced form of diabetic retinopathy.
In early and moderate diabetic retinopathy stages, the patient may not even show any symptom at all. Glaucoma and diabetic retinopathy can cause blindness and are much harder to treat in advanced stages.
"From an ophthalmologist point of view, we can only verify a person has a healthy eye with a comprehensive dilated eye examination looking into the retina, optic nerve, intraocular eye pressure and more," she explains.
Generally, as people get older, health issues start welling up to the surface. Similarly for the eyes, the elderly are commonly plagued by problems such as cataracts, dry eyes, age-related macular degeneration, glaucoma and of course, diabetic retinopathy.
Less commonly known eye diseases include retinal vein occlusion, epiretinal membrane and macular hole.
Opthamologist Dr Yen Siew Siang says having excellent vision does not necessarily mean that a person has healthy eyes. Photo: Optixanthin Healthcare​
Eyeballing The Symptoms
But the eye is not just susceptible to effects of ageing, other conditions can also affect eye health and those are mostly associated with non-communicable diseases (NCDs).
This is a group of diseases that cannot transmit directly from a person to another, but can be traced to the deaths of 41 million people each year, according to the World Health Organization[1].
One of the major NCDs that has topped the WHO's chart as the main cause of death in the world is ischaemic (or coronary) heart disease. In Malaysia this disease charts the highest in the cause of death, attributing to 35% fatalities in 2018[WHO 2018, IJN Statistics 2015].
What is worrying is that NCDs are beginning to affect those who are younger, with many in their 20s who are now susceptible to cardiovascular diseases, respiratory diseases, metabolic diseases such as diabetes, most cancers and mental illnesses.
In fact, the number of Malaysians below 50 years old having heart problems stood at 25% out of the total in 2014-15.
Patient checking on blood sugar level. Diabetes is also the cause of many deaths each year. Photo: Optixanthin Healthcare
The other fatal disease to reckon with is diabetes, with 3.5 million Malaysians diagnosed with it in 2015[NHMS 2015]. The following year, it was the cause for 3% in deaths out of the national total of about 154,000[Department Of Statistics, Ministry Of Health, 2016].
NCD patients have a higher risk of developing the aforementioned eye complications and in fact are treated together with the patient's general health.
Dr Yen points out that many NCDs are the result of oxidative stress within the body. That's when the reactive oxygen species (also identified as free radicals) accumulate in the body over time, resulting in chronic inflammation.
Factors that may lead to a person's risk of long-term oxidative stress are obesity; diets high in fat, sugar and processed foods; exposure to pollution, UV light and radiation; smoking; alcohol consumption; exposure to pesticides and industrial chemicals; and emotional stress.
Conversely, eye problems can stem from non-NCD related causes, especially in relatively healthy young patients.
Dr Yen explains that young patients can have dry eyes from prolonged use of contact lenses and excessive use of digital gadgets. They can end up with tired eyes or eye strain (a condition called asthenopia), be afflicted with Computer Vision Syndrome (CVS) or corneal ulcer, which again is related to contact lens wear.
Computer Vision Syndrome is due to today's pervasive use of electronic gadgets. Photo: Optixanthin Healthcare
CVS, in particular, is one of the many undesirable results from today's pervasive use of electronic gadgets. Defined as the temporary condition that results from focusing the eyes on a computer display for protracted, uninterrupted periods of time, the common symptoms include eye fatigue, blurred vision, itchy eyes, headaches and, back, neck or shoulder pain.
Benefits Of Antioxidants
To help combat these free radicals, Dr Yen says eating a variety of vegetables and fruits provide the body with vitamins, minerals, dietary fibre, plant protein and antioxidants[2]. Antioxidants lower the oxidative stress in the body and assist in reducing risks of eye diseases and NCDs.
"Consuming a variety of whole, unprocessed and fresh foods gives us the right amount of essential nutrients," Dr Yen clarifies. One source of antioxidants that has caught the attention of many researchers and scientists is astaxanthin.
Astaxanthin – One Of The Strongest Antioxidants In Nature
Astaxanthin is normally present in certain marine species such as salmons, crabs and shrimps. However, they are recently found to occur naturally in abundance within the haematococcus pluvialis freshwater microalgae.
Astaxanthin extracted from the haematococcus pluvialis microalgae occurs as a natural reddish pink pigment is a wholly natural vegetarian source. Photo: Optixanthin Healthcare
Astaxanthin is basically part of the carotenoid family, which means it is great for the eyes and also beneficial to many organ cells in the body. In particular, astaxanthin seems to be effective in improving blood capillary circulation of the eyes[3].
Consequently, it combats development of ocular diseases and symptoms linked to CVS. Dr Yen mentions that the body needs a variety of carotenoids to function optimally and astaxanthin is one of them.
Haematococcus pluvialis microalgae cells filled with astaxanthin. Photo: Optixanthin Healthcare
A study showed that consuming 9mg of astaxanthin daily over four weeks could significantly improve the eyes' ability to accommodate different focuses and reduce eye strain, hazy vision, flickering images, shoulder or back stiffness as compared to those in the control group[4].
"From a nutritional point of view, astaxanthin is considered one of the strongest antioxidants in nature, due to its high scavenging potential of free radicals in the human body."
Dr Yen points out that many research papers had summarised that aside from its effectiveness in removing the reactive oxygen species and other free radicals, natural astaxanthin is safe and a very effective anti-inflammatory. "It can prevent damage in DNA and protect the mitochondria."[5]
She reminds those who plan to consume astaxanthin to choose the natural, plant-based form, as it is scientifically proven through clinical studies done in human trials, which contains higher antioxidant strength.
"The key to a healthy life still lies mainly in a balanced dietary intake, regular physical activity, adequate good sleep, and ability to cope with emotional stress," Dr Yen concludes.
For details, call the toll-free hotline at 1-800-881-201 or (016) 223-4101, or email enquiry@optixanthin.com, or visit optixanthin.com.my.
References
[1] World Health Organization, fact sheet on non-communicable diseases, www.who.int/news-room/fact-sheets/detail/noncommunicable-diseases.
[2] www.who.int/behealthy/healthy-diet.
[3] Michiyuki Saito, Kazuhiko Yoshida, Wataru Saito, Akio Fujiya, Kazuhiro Ohgami, Nobuyoshi Kitaichi, Hiroki Tsukahara, Susumu Ishida, Shigeaki Ohno; "Astaxanthin Increases Choroidal Blood Flow Velocity"; Graefe's Archive For Clinical & Experimental Ophthalmology (2012), 250(2): 239‐245; 10.1007/s00417-011-1843-1.
[4] Yasunori Nagaki, Hiroki Tsukahara, Tanihiro Yoshimoto, Kanjiro Masuda; "Effect Of Astaxanthin On Accommodation & Asthenopia" (2010); 3. 461-468.
[5] Christian Galasso, Ida Orefice, Paola Pellone, Paola Cirino, Roberta Miele, Adrianna Ianora, Christophe Brunet, Clementina Sansone; "On The Neuroprotective Role Of Astaxanthin: New Perspectives?"; Marine Drugs, 16(8): 247; July 24,2018; 10.3390/md16080247.
Source: https://www.thestar.com.my/lifestyle/health/2020/05/10/eye-opening-views-on-astaxanthin