The Star Paper: Astaxanthin is renowned for its powerful antioxidant qualities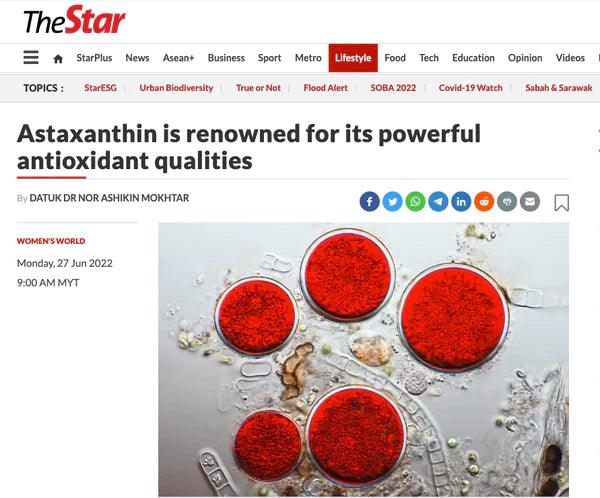 Astaxanthin is renowned for its powerful antioxidant qualities
By DATUK DR NOR ASHIKIN MOKHTAR
Monday, 27 Jun 2022, 9:00 AM MYT
H. pluvialis microalgae, whose cells are seen here under a microscope, is used to make astaxanthin supplements due to their naturally-high bioavailability of this antioxidant. — Wikimedia Commons


There's a reason why astaxanthin is one of the most popular antioxidant supplements right now.
Part of the carotenoids group, astaxanthin is reddish in colour and packed with anti-inflammatory properties and other health benefits.
Some research has indicated that astaxanthin can speed up the treatment of ailments like Alzheimer's disease and Parkinson's disease, but a wider interest in astaxanthin is due to its benefits against heart disease, blood pressure, cholesterol and other common ailments.
What is astaxanthin?
This carotenoid is a subclass of xanthophyll.
It's found naturally in certain seafood (e.g. fish eggs, crab, salmon and lobster) and certain algae, and may even be responsible for the vibrant colour of flamingoes!
It is often nicknamed "the king of carotenoids" because it is one of the most powerful antioxidants in nature.
What makes astaxanthin so powerful?
Part of the reason is because it cannot be converted into a pro-oxidant.
In other words, astaxanthin will not cause destructive oxidation in the body.
Inflammation is the root cause for early ageing, cancers, brain- related conditions like dementia, arthritis, eye problems and more.
Astaxanthin can help with these conditions and a long list of other health complications, making it useful for health-related benefits and performance.
How does astaxanthin work?
Your body gets astaxanthin through dietary supplements and seafood.
Although it's ideal to get your nutrients from natural food, supplements are needed to get adequate amounts of astaxanthin in your body, as you may not consume enough foods containing this carotenoid.
Think about it, how much lobster or salmon can you afford or want to consume in one meal?
To activate the desired benefits, taking a supplement is recommended.
The Haematococcus pluvialis algae is known to have the highest bioavailable quantities of astaxanthin and is approved by the US Food and Drug Administration (FDA) as safe to take.
As an antioxidant, astaxanthin can impact growth and health due to its anti-inflammatory properties.
These agile molecules fix the damage created at the cellular level by unstable molecules known as free radicals.
Although certain free radicals help the immune system to fight bacteria, germs and viruses, most other free radicals destroy healthy cells.
Astaxanthin, as an antioxidant, works to keep such free radicals in check.
Imbalance can lead to oxidative stress, which is detrimental to the body.
Here are some other facts about astaxanthin:
Astaxanthin is nearly 6,000 times stronger than vitamin C, one of the most important vitamins when it comes to boosting the immune system.
It is 550 times richer as a source of antioxidants than green tea or other catechins.
Astaxanthin is 550 times more effective as an antioxidant than vitamin E.
Other benefits of astaxanthin
Some daily habits and environmental risk factors may create oxidative stress, such as smoking, high carbohydrate diets, too much alcohol and so on.
Astaxanthin can help to correct imbalances created by oxidative stress by providing the following health benefits:
>
Slow down neurodegenerative disease
Oxidative stress in the brain is responsible for many neurodegenerative disorders.
Multiple sclerosis, Alzheimer's disease and Parkinson's disease all fall under this category.
But chances are that astaxanthin may have protective effects (for the mitochondria and nerve cells) that will help slow down the development of symptoms.
>
May help reduce male infertility
A study conducted by Dr Parviz Gharagozloo and his colleagues at the University of Newcastle's Priority Research Centre in Reproductive Science in Australia, found a strong correlation between sperm oxidative stress and male infertility.
As a result, fertility experts and scientists have been actively studying ways to treat sperm oxidative stress, and thereby, curing male infertility using antioxidants.
So it appears that astaxanthin may be exactly what the doctor ordered for men wanting to be fathers!
>
Reduce symptoms of menopause
Menopausal women may suffer from symptoms like anxiety, stress, hot flushes and depression.
According to early research conducted by scientists, a combination supplement containing astaxanthin may help reduce these symptoms.
The symptoms associated with stress and oxidative stress are often climacteric symptoms like hot flushes.
ALSO READ: Tips on managing menopause symptoms
>
Help patients heal from the after effects of a stroke
Many of the blood vessels supplying the brain can be damaged during a stroke.
This usually results in the brain cells dying because oxygen and nutrients can't get to them.
Astaxanthin can play a key role in reducing brain damage from stroke.
It can do this by stimulating blood flow, reducing blood pressure, relaxing blood vessels and ameliorating oxidative stress.
This theory has been tested and proven in mice during laboratory trials.
ALSO READ: Three tips to prevent a stroke from a doctor who had one
According to a comprehensive study conducted in 2012, combining oral and topical astaxanthin can reduce age spots, smooth wrinkles and help restore skin moisture.
The best part is that both females and males benefited from these anti-ageing and skin promotion effects.
The findings of these studies are not conclusive, however, and more research is required to confirm the association between astaxanthin use and improved skin health.
>
Improves physical performance
Heavy exercise and workouts often cause an accumulation of the stress hormone cortisol, as well as an increase in free radical production.
You are guaranteed to suffer from oxidative stress that can result in fatigue and sore muscles after the workout.
Astaxanthin has been the subject of numerous studies on its potential to boost endurance, boost physical stamina and reduce fatigue levels during and after intensive exercise.
The preliminary results so far have been promising.
Untreated hypertension (high blood pressure) increases the risk of heart disease and stroke.
Astaxanthin has shown great potential in preventing and reducing high blood pressure, as well as ameliorating its associated effects.
High cholesterol in the blood can clog your arteries up, which then leads to a build-up in the blood pressure.
Astaxanthin as an antioxidant helps reduce bad cholesterol, and therefore prevent hypertension.
ALSO READ: Evening exercise has best effect for high blood pressure patients
A diabetic condition arises from damaged, inflamed or malfunctioning beta cells in the pancreas.
This leads to little or no insulin production, resulting in high blood sugar levels.
A high blood sugar level causes high oxidative stress, which in turn, results in the death of more pancreatic beta cells.
Astaxanthin's antioxidant properties can help protect pancreatic beta cells by reducing oxidative stress and sugar toxicity in the blood.
In one milestone study published in 2002, scientists found that astaxanthin reduced glucose toxicity in diabetic mice, therefore protecting their pancreatic beta cells.
ALSO READ: Coffee's effects on blood pressure and blood sugar
>
Manages high cholesterol
Cholesterol is produced naturally by the liver and transported via the blood to be used to make cell membranes, vitamin D and certain hormones.
But when there is too much cholesterol in the blood, it sticks to the walls of the blood vessels.
One study suggests that taking between 6mg and 18mg of astaxanthin every day for 84 days reduces the blood levels of lipids often associated with high LDL (low-density lipoproteins) levels in individuals with high cholesterol.
The study also indicated that astaxanthin may help to increase the levels of good cholesterol.
>
Prevent ulcers from forming
The oxidative stress in the gut often creates a conducive environment for the bacteria Helicobacter pylori to flourish, resulting in stomach ulcers that come back repeatedly until the oxidative stress is addressed.
You can use astaxanthin orally to prevent H. pylori for good.
This helps prevent ulcers from forming in your intestines by protecting their wall lining.
Datuk Dr Nor Ashikin Mokhtar is a consultant obstetrician and gynaecologist, and a functional medicine practitioner. For further information, email starhealth@thestar.com.my. The information provided is for educational and communication purposes only, and it should not be construed as personal medical advice. Information published in this article is not intended to replace, supplant or augment a consultation with a health professional regarding the reader's own medical care. The Star does not give any warranty on accuracy, completeness, functionality, usefulness or other assurances as to the content appearing in this column. The Star disclaims all responsibility for any losses, damage to property or personal injury suffered directly or indirectly from reliance on such information.
Source: https://www.optixanthin.com/blogs/news/the-star-paper-virgin-coconut-oil-appears-to-help-fight-covid-19